Clinical Nutrition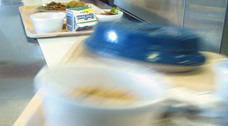 The science of food and nutrition has never been so exciting. And the expertise of dieticians and food technicians have never been in such high demand. In addition to keeping people nutritionally well-informed, the team at the Douglas Institute advocates for improved health standards, updated food practices and improved nutrition communication.

Internships rarely available elsewhere

The Food and Nutrition Service of the Douglas Institute has a rare expertise in psychiatric nutrition, community nutrition, and eating disorders in adolescents and adults. Our food production cook-chill system, using a decentralized distribution model, also constitutes an outstanding asset for trainees wishing to gain experience in the field of food service management.
The clinical nutrition program at the Douglas Institute supports the McGill School of Dietetics teaching program objectives:
Availability and preparation of food
Normal and clinical nutrition
Community nutrition
Evaluation of nutritional products and their use in nutrition
Communication of information about food and health
Our training program welcomes students with a college or university degree. While at the Douglas, the future professionals will gain knowledge and expertise through the integration, translation and application of food, nutrition and social sciences. Students will also work with populations to create strategies to achieve food- and nutrition-related goals.
Information
Micheline Chammaa
Director of Clinical Training–Clinical Nutrition
Douglas Institute
Perry Pavilion, E2512
6875 LaSalle Boulevard
Montreal, (Quebec) H4H 1R3

Tel.: 514 761-6131, ext. 3116
micheline_dot_chammaa_At_douglas_dot_mcgill_dot_ca