Participants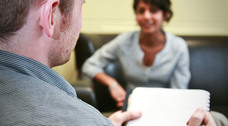 The research team gratefully acknowledges the 2,433 participants of the longitudinal survey.

You are contributing to a pioneering study conducted exclusively in the southwest sector of Montreal. Your valuable collaboration will help us move forward in the advancement of knowledge.
Random selection of the population
A random selection of street addresses was carried out in the catchment area. The involvement of people living at these addresses is enabling us to establish a representative picture of the population of Montreal's southwest sector.
Why a longitudinal survey
This type of study follows a cohort of participants over time by administering the same questionnaires. This method allows us to better understand how changes in the lives of people through time are related to changes in their mental health and their quality of life. Our study entails one visit every two years.
Importance of participating
Although participation is not mandatory, it is very important. If a person falls from view, this results in a loss of information, which may distort the results and conclusions of the study. The quality of the results depends on the efforts of every participant. However, each person we approach can choose whether or nor take part in the investigation and whether to continue participating or to withdraw at any stage of the research.
Trois vagues d'entrevues
First wave: More than 2,433 residents in the southwest sector of Montreal completed an interview in 2007-2008. .

Second wave: From the participants of the first wave of data collection, 1,823 people were contacted and agreed to complete a second interview. The second stage of our investigation was concluded in autumn 2010.

Third wave: The third data collection started in the fall of 2011 and will finish February 2013. Additional residents are solicited to replace participants with whom we have lost contact. As in the first stage, recruitment will be based on a random selection of street addresses. Our recruitment teams will visit the streets of southwest Montreal to inform residents of the selected addresses.
Specific studies
Additional thanks to the participants of the cohort who took part in specific studies. Their participation has enabled us to study the topics under discussion in greater depth and detail. Every participant of the longitudinal study is free to take part in any of the specific studies proposed by our research team.
Ethical issues
Please be assured that strict rules of confidentiality will preserve the anonymity of all participants in the study. Under no circumstances will names or contact information be divulged to a third party. Only the professional members of our research team will be in contact with the participants.
Let's keep in touch
Don't forget to inform us if your contact information (phone, address or email) has changed since your last interview. Just send an email to guylaine_dot_daoust_At_douglas_dot_mcgill_dot_ca
As our study progresses, a newsletter will be mailed to the participants. The newsletter will also be available online.