Nursing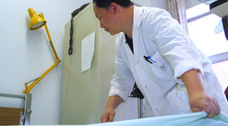 Between 150 and 180 students in Nursing are presently doing their internship at the Douglas Institute this year. The aim of the training program is to provide students with an environment conducive to their development and within which they can apply their theoretical knowledge, while benefiting from a rich learning experience working with skilled nurses in the mental health field. This will allow them to expand their knowledge in a specialized practice.
The Nursing Training Department is pleased to welcome nursing students at the college level or at the baccalaureate, masters or doctorate levels. Students are from local colleges or from McGill University, Université de Montréal, Université du Québec or University of Ottawa. Our teams also welcome nursing externs and CPNPs.
The benefits of nursing internships at the Douglas:
A varied clientele. The Douglas serves all age groups with a wide variety of mental health problems. Students may perform an internship in one of our eight clniical program:
Adult Program
Child Psychiatry Program
Geriatric Psychiatry Program
Mood, Anxiety and Impulsivity Disorders Program
Psychotic Disorders Program
Intellectual Handicap with Psychiatric Comorbidity Program
Eating Disorders Program
Psychosocial Recovery and Specialized Housing Program
Exposure to this kind of diversity gives students a great advantage when they have to decide on a career path.
Time to develop a professionnal relationship with patients. Contrary to work at general hospitals, where the pace of care is fast and patients are discharged one after the other, work at a mental health institute requires time to communicate and establish a relationship of trust with patients.
Interdisciplinarity. Interns will be called upon to work with teams that are often made up of psychiatrists, psychologists, social workers, nutritionists, occupational therapists and nurses. This contact with different disciplines prepares interns in their future roles.
The possibility for bachelor's students to work in the community with CLSC partners, at day hospitals, or with community organizations.
The possibility of attending weekly and monthly training workshops, offered by the Institute.
A dedicated, energetic, and experienced nursing staff who are great at guiding and supervising students.
Candidates interested in obtaining more information about the program possibilities, regulations, schedules, and application requirements can do so by contacting the program coordinator:
Information

Nathalie Boudrias
Nursing Advisor
Douglas Institute
6875 LaSalle Boulevard
Montreal, (Quebec) H4H 1R3
Tel.: 514-761-6131, ext. 2196
Fax: 514-888-4474
nathalie_dot_boudrias_At_douglas_dot_mcgill_dot_ca