Occupational Therapy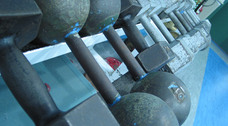 The aim of the program is to provide second- and third-year students with a rich learning environment within which they can develop a high degree of expertise necessary to develop a successful career. The program is accredited by the Canadian Occupational Therapy Association, and the training program receives students from universities within Quebec and from across Canada, as well as from other teaching facilities worldwide.
Since 2006, the Institute has also received immigrants to Quebec who have trained as occupational therapists in their home countries and who need to undergo training in order to be recognized by the Ordre des ergothérapeutes du Québec.
The Hospital provides mental health services to all age groups, from infancy to old age. Its expertise is renowned in a wide variety of clinical programs, which offer a particularly stimulating range of learning possibilities. Training in the following programs is therefore varied and rewarding and relates to both general therapy and rehabilitation:
Severe Disruptive Disorders Program
Candidates interested in obtaining more information about program possibilities, regulations, schedules, and application requirements can do so by contacting the program's coordinator.
Information
Hélène Laberge, MsC (OT)
Director of Clinical Training–Occupational Therapy
Department Head, Therapeutic Activities
Douglas Institute
6875 LaSalle Boulevard
Montreal, (Quebec) H4H 1R3

Tel.: 514-761-6131, ext. 2291
Fax: 514-888-4067
helene_dot_laberge_At_douglas_dot_mcgill_dot_ca