Social Work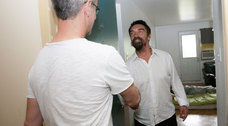 Each year, the Douglas Institute receives approximately fifteen trainees in social services who come mainly –but not exclusively– from McGill University. Traineeships at the Douglas Institute have many advantages:
The development and mastery of concrete skills in the following areas (as indicated by students in their traineeship reports):
Individual therapy
Assessments
Writing reports and requests (public curatorship)
Interdisciplinary approach
Promoting patient rights
The teaching of daily life skills
Applying the recovery model
Participation in monthly multidisciplinary lectures on mental health topics:
Personality disorders
Mood disorders
Pharmacotherapy
Suicidal risk behaviour
Ethics and legal aspects
Testimonials of interns
"My supervisor provided much insight into conflict resolution strategies."
"The student conferences were especially appreciated and I enjoyed the variety of the topics examined."
"My supervisor was excellent at helping us recognize when things were getting to be too much (overexposure to particular clients) and helped set limits."
"My supervisor maintains a professional stance with everyone and for everything, so I learned from her example."
Supervisors
Interns at the Douglas Institute are coached by experienced supervisors, who are involved in disciplines that correspond to student's interests. Consult the list of supervisors.
Information
Joan Simand, MSW
Director of Clinical Training–Social Work
Douglas Institute
6875 LaSalle Boulevard
Montreal, Quebec H4H 1R3
Tel.: 514-761-6131, ext. 2520
Fax: 514-888-4067
joan_dot_simand_At_douglas_dot_mcgill_dot_ca