Visiotraining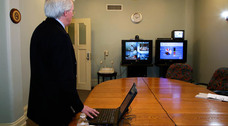 The Douglas Institute provides its partners with videoconference training developed in partnership with the McGill RUIS specifically for the needs of mental health partners from regions outside Montreal. It has been offered since January 2008.

Conducted in real time, visiotraining allows professionals working outside of urban centres to pursue their professional development without having to travel.
How does it work ?
Visiotraining sessions are currently offered in French only. Discussions are bilingual. Each interactive session lasts 2 hours and includes pre-course material and a question period. The training sessions are based on concrete experiences and promote discussion between the participants and the presenter. Visiotraining sessions are free to physicians and health professionals.
Participation Instructions
To attend a visiotraining class:
Contact your establishment's telehealth coordinator
The coordinator must fill out the online registration form at least two weeks prior to the date of the session
Visiotraining material will be sent to your site's coordinator, who will provide this material to you.
Important: Your telehealth site must be registered before you can attend visiotraining class.
Note to Telehealth coordinators
Since space is limited, your site must be registered as soon as possible. You must also ensure that at least one person attends each visiotraining class. You are responsible to ensure that all participants have the written material in hand prior to each class.
Your site must be connected at least 15 minutes before the start of the session.
Information
Douglas Institute
6875, boulevard LaSalle
Montreal, (Quebec) H4H 1R3
Tel.: 514 761-6131, ext. 2653.
tele_dot_formation_At_douglas_dot_mcgill_dot_ca