News
20M$ for a new brain imaging centre at the Douglas Institute
2009-09-14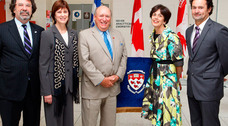 Quebec Education Minister Michelle Courchesne, along with senator David W. Angus, announced a $100-million investment from the federal and provincial governments to address some of McGill's essential maintenance and construction projects. The funding is awarded under the Knowledge Infrastructure Program launched earlier this year by the federal government.

The funding includes $19,672,000 for the creation of a new centre for brain imaging at the Douglas Mental Health University Institute. The centre, with an area of over 1,200 m2, will accommodate two scanners, one dedicated to human studies and the other to animal (rodent) studies.

The first scanner will allow a significant increase in the range of clinical populations who can be examined safely (pediatric populations, patients in internal units, etc) and will greatly facilitate longitudinal monitoring of these populations. The scanner intended for animal studies will allow development of animal models for brain pathologies, such as Alzheimer's disease, schizophrenia, depressive disorders and autism, among others. These two MRI scanners on the technological cutting edge will be housed in a new building erected specifically for brain imaging research and will also offer other complementary human imaging techniques (cerebral electrophysiology, transcranial magnetic stimulation and physiological monitoring).

The remaining 80M$ will be used for upgrades to the integrated life sciences facilities in the McIntyre Medical Building; the renovation of chemistry facilities in the Otto Maas Chemistry Building and in the Pulp and Paper Research Institute; and for the renewal of facilities in support of engineering innovation in the Macdonald Engineering Building.