Emergency
In case of an emergency
Indivuals may go to the emergency room of their nearest hospital, in a community crisis centre or to the Douglas Institute emergency. They can also reach Info-Santé by dialing 811.

If the situation is not urgent, individuals must get a reference from their doctor or go to the "accueil psychosocial" (entry point) of their CSSS. After the evaluation of the level of services required, a reference will be transferred to the appropriate service.
Open 24 hours a day, 7 days a week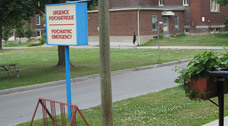 The Emergency Department at the Douglas Institute provides care and services to anyone with a mental health problem and whose condition requires urgent care.
To visit a patient
Information about anyone admitted to a service at the Douglas Institute is kept confidential. Families and friends of a patient in the Emergency Department will only be contacted with the patient's prior consent.
To visit a patient at the emergency room:
You must arrive between 9:00 a.m. and 9:00 p.m. and register with the security guard.
The number of visitors is limited to two per patient.
The visit length is based on the person's health condition and how busy the Emergency Room is.
Procedure
Upon arrival
Greeting by a security guard, explanation of the procedures to follow, and a pat-down search
Processing by the triage station
Processing by the registration office
Nurse assessment
A nurse assesses the person's mental health condition to identify the problem and assess the level of risk that the person poses to him or herself or to others.
Psychiatric assessment
The doctor or psychiatrist assesses the person, establishes a diagnosis, and creates a treatment plan. The doctor determines whether the person should be admitted to the Douglas Institute, transferred somewhere else, discharged, and/or referred to an external resource.
Discharge
Discharges are planned with patients to help them better understand their conditions and to make them aware of available external services that are adapted to their needs.
Contact information
The main entrance of the Emergency Department is wheelchair accessible.

Douglas Institute
Reed Pavilion
6875 LaSalle Boulevard
Montreal, (Quebec) H4H 1R3

Phone: 514-761-6131, ext. 2221
Fax: 514 762-3045