Justice and Mental Health in Quebec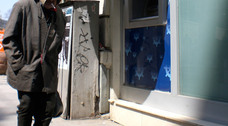 For many decades, criminal and civil law reforms have sought to establish a balance between individual rights and freedoms on the one hand and public safety on the other. Ironically, some of these reforms have contributed to the criminalization of psychiatry.

In Quebec, psychiatric deinstitutionalization began in the 1960s with the goal of giving patients back their dignity, rights and freedoms. The aim was also to release patients from hospitals and have them remain in the community to the greatest extent possible. Very quickly, the number of patients in psychiatric hospitals dropped 80%. However, mental health services and resources only partly followed patients in the community.

As a result, individuals with a severe mental disorder have an increased risk of finding themselves on the street and without appropriate care. These changes have also increased the risk that people with severe mental disorders come into contact with the legal system.

The term "reinstitutionalization" is often used when referring to the higher incarceration rate of people with mental disorders who commit minor offences. These people have therefore left psychiatric institutions to end up in prisons. Indeed, the percentage of people with severe mental disorders is much larger in the prison population and among the homeless than in the general population.


| | | | |
| --- | --- | --- | --- |
| | General population | Prisons and penitentiaries | Homeless |
| Schizophrenic disorders | 1.7% | 6.5 - 7.5% | 12.4% |
| Major depression | 4.9% | 17% | 32.8% |
Source: Côté & Crocker (2007)
If someone with a mental health problem is sent to prison and does not receive care, this person's condition will most likely deteriorate. A number of tools have therefore been created to stop this trend of criminalizing the mentally ill. These tools include pre-charge diversion programs, which give the police discretion to lay charges or not in a given situation, and the Mental Health Courts (MHC). The goal of the MHC is to better assess and assist
people living with a mental disorder and who are involved in the criminal justice system
.
Early research indicates a decrease in the detention and recidivism rate and a better use of services. At the Douglas Institute, a research team is assessing the implementation of a pilot project in Montreal called the
Programme d'accompagnement justice-santé mentale (PAJ-SM)
.
People who suffer from mental disorders may also come into contact with the legal system without having committed a delinquent act : for example, if they pose a
danger to themselves or other people
and need to be kept in protective custody or receive treatments.
[Justice and Mental Health in Quebec] [When a person suffering from a mental disorder commits an offence] [The Programme d'accompagnement justice-santé mentale (PAJ-SM) in Montreal] [When a person presents a danger to him or herself or others]