News
Daina Crafa, our new Vanier Scholar
2014-08-14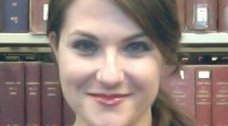 The Douglas Institute has a brand new recipient of the prestigious Vanier Canada Graduate Scholarships (Vanier CGS), a program which attracts and retains world-class doctoral students and helps establish Canada as a global centre of excellence in research and higher learning.

Originally from Tampa Bay Florida,Daina Crafa is an extremely bright student in the neuroscience (IPN) program at McGill University with an impressive and lengthy resume and thorough research experience. She has been putting her skills to great use at the Douglas Institute since last fall, while studying at McGill University. Before coming to the Douglas, her academic path led her through the States (John Hopkins Medicine, Kennedy Krieger Institute, UCLA), England (University of London) and Germany (University of Osnabrück).
"It is the most prestigious award I could qualify for as a foreign student," says Daina Crafa.
Daina is working with Mathieu Brodeur's team. Mathieu Brodeur, PhD, is studying contextual processing in individuals with schizophrenia to see to what extent the deficits of this process are associated with symptoms of reality distortion and disorganization.
In his lab, Daina studies the relationship between culture and disorders, centering her work on disorders such as autism and schizophrenia in migrant populations and patients across cultures.
In keeping with the Vanier awards spirit, Daina feels the urge to use her work to better the world, and especially to fight the stigma that surrounds people with mental disorders.