Participate in the study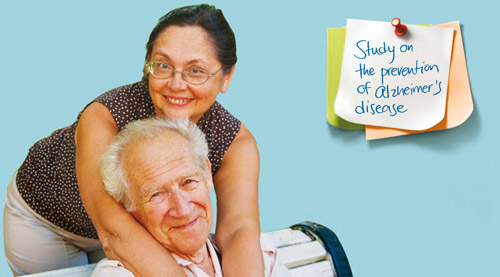 Important: Recruitment for this project is on hold as of May 2017. No applications will be accepted until further notice.
Study participation criteria

You must be 55 or older and in good health
You must have a parent, brother or sister who has - or had - Alzheimer's disease
Fill out the online questionnaire to find out if you are eligible and speed up the selection process.

Why should I participate ?
Our goal is to understand how we can slow or reverse the emergence of AD symptoms. Your participation will let us study how to prevent declines in brain health. Without the participation of research volunteers, such studies are impossible.
The main benefit people receive from taking part in studies like PREVENT-Alzheimer is a sense of satisfaction that they are playing a critical role in the fight against AD.

Other advantages include a physical examination by our staff at regular intervals and an assessment of your health and memory. Note, however, that only PREVENT-Alzheimer faculty and staff will see your test results.

You will also be provided with pamphlets and articles about progress in the fight against Alzheimer's disease.
What will I be asked to do ?
f you are eligible for our study, we will ask you to do the following:
Come to the StoP-AD Centre to meet our research personnel so that we can explain the study to you and answer your questions.

If you subsequently choose to participate, we will schedule several visits that will include:
● Routine medical exams
● Brain scans using state-of-the-art procedures
● Brief tests of your memory and cognitive functions
Where will the study take place ?
The Centre for Studies on Prevention of Alzheimer's Disease (StoP-Alzheimer) is located in the Perry Pavilion on the campus of the Douglas Institute, where you will have access to the following services:
Parking
Clinics and laboratories
Brain imaging facilities

Directions to get to the Douglas Institute
Information
Marianne Dufour
Administrative assistant
Douglas Mental Health University Institute
Perry Pavilion – Suite E-2210
6875 LaSalle Boulevard
Montreal, Quebec H4H 1R3
Tel.: 1-855-888-4485 (toll free)