Intellectual Handicaps Program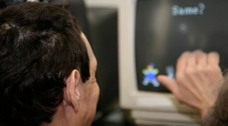 The Intellectual Handicap with Psychiatric Comorbidity Program is designed for people aged 18 to 65 who have a moderate to severe intellectual handicap accompanied by a psychiatric disorder.
Care unit (Burgess 2)
The goal of this 15-bed unit is to stabilize the health condition of patients before sending them back into the community. The team assesses and treats patients by promoting team meetings and discussion, creating individual intervention plans (IIP), and emphasizing a multimodal approach. This approach aims at better understanding the causes of these diseases in order to provide personalized and effective therapy.

Douglas Institute
Burgess Pavilion, 2nd floor
6875 LaSalle Boulevard
Montreal, (Quebec) H4H 1R3
Phoenix Learning Centre
This day centre can receive up to thirty people, who are divided into three groups based on different assessment tools:
Picture Exchange Communication Group (P.E.C.S.): Gives patients who are not able to express themselves verbally the opportunity to learn a visual communication system.
Low Stimulation Group: Reduces sensory stimulation and provides structured activities for patients who are sensitive to their environments.
Pre-Vocational Group: Recycles, sorts and separates paper recovered throughout the Douglas Institute.
Patients are also encouraged to participate in therapy activities that develop communication, social skills, creativity and well-being. Most patients live in residential resources in the community.

Douglas Institute
Porteous Pavilion
Out-patient Service
Thirty-five patients staying with fourteen different host families are currently being followed by the program's Out-patient Service. This team is responsible for giving patients and their host families the information they need and for helping patients better adapt to life in the community (medication follow-up and adjustment, milieu therapy, holistic assessments, etc.).

Douglas Institute
Porteous Pavilion, 3rd floor
Access to services
Program services are only provided to individuals who are already followed at the Douglas Institute and who are referred by another program.

Anyone requiring care for an intellectual handicap can go to an intellectual handicap rehabilitation centre (CRDI) with a medical referral.