News
The Douglas Eating Disorders Program provides services mainly in French
2012-03-08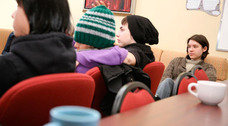 The Douglas Institute would like to reiterate that the services of its Eating Disorders Program are provided mainly in French.

The Eating Disorders Program at the Douglas Institute, directed by Howard Steiger, PhD, must provide bilingual services to Anglophone patients who do not speak or understand French. In fact, 80% of the clientele is French-speaking and French is widely used in the program. In the outpatient clinics, the ratio is approximately one Anglophone group for every four Francophone groups.
Last year, the Douglas Institute Eating Disorder Program obtained a mention of leading practices for its knowledge transfer to the first and second line. Its collaboration with other programs for teens in the province's hospitals and with the CSSSs is strong. So women over the age of 18 who suffer from an eating disorder do indeed receive services in French at the Douglas Institute.