News
New $6.5 Million Research Facility to Study Role of Genes and Environment in Mental Health
2008-11-11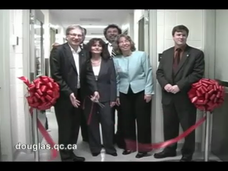 Neurophenotyping Center inauguration (in French)
The Douglas Mental Health University Institute recently inaugurated its new Neurophenotyping Centre. Given that one out of five individuals will be diagnosed with a mental illness during their life, researchers at the Centre will try to understand why this occurs.
Neuropheno… what?
Neurophenotyping is the study of how certain individuals who have susceptibility genes for mental health, are more vulnerable than others when they are subjected to environmental stressors, and how interactions between genes and the environment modify the brain, behavior and cognitive function. For instance, using the design of natural environments, researchers from the Douglas will be able to determine whether social pressure can precipitate the onset of depression. On the other hand, they will examine whether a genetic predisposition to schizophrenia can be "silenced" by a comforting environment, social networks, etc. The facilities will enable them to better explore animal models of human pathologies such as Alzheimer disease and identify –through more sophisticated testing- some of the environmental factors that trigger expression of the illness.
Nature, nurture… or both?
"The last few years have seen huge progress in identifying the genetic basis of mental illnesses," says Claire-Dominique Walker, PhD, Director, Neuroscience Research Division. "However, it is important to remember that there is an environmental and genetic aspect to the development of the disease and it is the interaction between the two that will determine the onset or resilience of the illness. The new Centre will enable us to study both aspects of disease progression."

"Work at the Centre will directly benefit patients," adds Rémi Quirion, PhD, Scientific Director at the Douglas Institute Research Centre. "For example, many of our researchers are interested in the role of genetics on drug response. We will be able to evaluate why some medications work better for some patients. This will ultimately lead to patient-tailored drug regimes and overall better treatment of the disease. The research will benefit patients including those with mood disorders, anxiety and impulsivity, aging and Alzheimer disease, as well as schizophrenia."
Partners of the Neurophenotyping Centre
Construction of the Centre was made possible thanks to funding from the Quebec Ministry of Economic Development, Innovation and Export; the Douglas Institute Foundation; McGill University Faculty of Medicine; and the Agence de la santé et des services sociaux de Montréal.
The Neurophenotyping Centre in a few numbers
State-of-the-art animal and research facilities to accommodate the needs of more than 60 internationally-renowned researchers, and 180 graduate students and post-doctoral fellows
An area of more than 15,000 square feet
Amenities for up to 3,000 animals
Specialized equipment, including:

semi-natural environments;
sterile and quarantine environments;
behavioral analysis laboratories;
tissue analysis rooms;
genetic processing rooms.