PREVENT-Alzheimer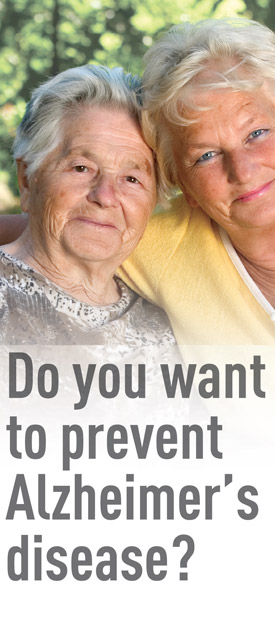 The PREVENT-Alzheimer Program
The PREVENT-Alzheimer program wants to recruit 500 participants. Their contributions will be the key to finding strategies that can slow or reverse brain changes that may occur in older people who do not suffer from dementia.
To our knowledge, this program is the first of its kind worldwide.

To participate in the study or for more information, please dial toll free number:
1 855-888-4485

The StoP-AD Centre
The StoP-AD Centre is the Centre for Studies on Prevention of Alzheimer's Disease at the Douglas Institute. The StoP-AD Centre will develop or refine powerful techniques that measure the pre-symptomatic brain changes of AD and then use these techniques to test potential prevention strategies.
Alzheimer's Disease, a critical situation
Alzheimer's Disease is the most common cause of dementia by far. AD dementia can affect people under age 65, but it occurs most frequently in people over 75.
Some statistics

Nearly one in five baby boomers will develop dementia
Today, there are 36 million people worldwide living with dementia
In Quebec, more than 100,000 people are suffering from dementia
Today, 25,000 cases of AD dementia are diagnosed in Quebec each year, which will grow to more than 50,000 annually by 2050
In the year 2000, Canadians spent more than $5.5 billion caring for people with dementia