Residency
Core and elective rotations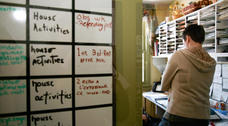 The Douglas Institute offers its residents the opportunity to acquire a developmental perspective of the individual, from infancy through childhood, adolescence, adulthood and into old age.
Elective rotations at the Douglas offer unique subspecialty options.
Core rotations:
Geriatric Psychiatry
Child Psychiatry
Continuing Care
Inpatient
Elective rotations:
Attention Deficit Disorders
Adolescent Psychiatry
Child Psychiatry
Continuing Care
Eating Disorders
Mood Disorders
ECT
Emergency Psychiatry
Crisis Intervention
First Episode Psychosis
Psychiatry Intensive Care Unit
Group Therapy
Psychopharmacology
Psychiatry Research : Adult and Child
The Douglas Institute invites interested residents to communicate with the Director of Academic Affairs to plan rotations that correspond to their interests, skills and plans for the future.
Information
Joanne Joly, M.D., FRCPC
Director of Academic Affairs
Tel.: 514-761-6131, ext. 2768
Fax: 514-888-4057
joanne_dot_joly_At_douglas_dot_mcgill_dot_ca
Annie-Melissa Paquette-Quintal
Coordinator
annie-melissa_dot_paquette-quintal_At_douglas_dot_mcgill_dot_ca