Clinical Ethics Committee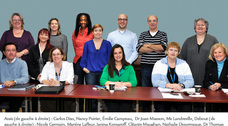 The Clinical Ethics Committee was created in 1966. Its mandate is to consider ethical issues in psychiatry and to make recommendations as they are relevant to and impact on the patients and staff of the Douglas Institute.
This includes:
reviewing the Institute's policies that have ethical components
providing guidance to health-care workers for particular clinical cases
educating and sensitizing the staff and public to ethical issues in psychiatry
Based on the values of respect, determination, benevolence, beneficence, confidence, justice and the integrity of each person, the Clinical Ethics Committee recognizes each person`s fundamental right to make their own informed decisions about their care and any other issue that affects their quality of life. They also recognize each person`s capacity to develop their own approach to ethical reflection.
Composition
The Committee is composed of:
Thomas Maniatis, MD, MSc, FRCPC, co-chair
Martine Lafleur, co-chair
Nicole Germain, assistant to the executive director
A representative of every clinical program or profession
Present as an observer:
Francine Bourassa, local complaints commissioner
Who can submit a request to the Ethics Committee?
The Ethics Committee answers questions from:
Clinicians and health staff
Patients
The public
What kinds of requests can be submitted to the Ethics Committee?
The Ethics Committee can be contacted regarding:
General ethics issues
Questions concerning specific cases
Requests for clinical team visits
Contact
Send any request to the Ethics Committee via email at: cec_At_douglas_dot_mcgill_dot_ca