News
Twenty-five years of research on Alzheimer's Disease
The McGill Centre for Studies in Aging (MCSA) celebrates 25 years of existence
2010-08-05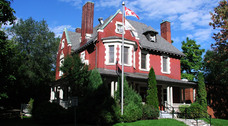 Established in 1985 as a multi-disciplinary academic unit dedicated to gerontological research and postgraduate teaching on the mechanisms of aging as well as prevention of age-associated disorders, it has more recently gotten involved in novel areas of aging research.

Most importantly, the MCSA has achieved international recognition for its integrative work on the neurodegeneration of the aging central nervous system and neurodegenerative diseases.

Douglas researcher Jens Pruessner, PhD, is Director of the Centre. Its scientists are renowned for their contributions in the fields of Alzheimer and Parkinson's diseases and other cognitive disorders.

The Centre is located at 6825 LaSalle Blvd.,on the grounds of the Douglas Institute.