News
Recognition of Excellence for two programs of the Douglas Institute
2011-05-13
The Douglas Mental Health University Institute has received recognition for the excellence of two leading practices by Accreditation Canada, a not-for-profit, independent organization that provides health organizations with an external peer review to assess the quality of their services based on standards of excellence.
As part of the on-site survey process, Accreditation Canada surveyors identify leading or exemplary practices that they find to be commendable examples of high quality leadership and service delivery. These practices are worthy of recognition as organizations strive for excellence in their specific field, or commendable for what they contribute to health care as a whole.

To be recognized as a leading practice, an initiative has to:
be creative and innovative
demonstrate efficiency in practice
adhere to Accreditation Canada standards
can be implemented by other organizations
Douglas Institute obtained two mentions of leading practices for the following programs:
École Mini Psy/Mini-Psych School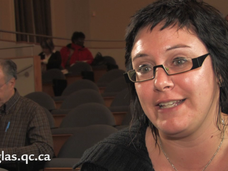 Participants of the 2009 Mini-Psych School talk about their experience
If a mental illness is properly diagnosed, accepted and controlled, it can have a positive influence on the life of the sufferer and their family. A socially responsible community of well-informed individuals who reject the misconceptions and preconceived notions surrounding mental illness can succeed in building a fairer and more inclusive society. These are but two of the transformations the Mini-Psych School is aiming to achieve.
In establishing the Mini-Psych School, the Douglas Institute—home to high calibre researchers and mental health professionals—has given itself the responsibility to present reliable information based on best practices. The goal is to encourage people to take care of their mental health in the same way they do their physical health.
The course focuses on various mental illnesses and mental health concerns. Each class is given by a Douglas mental health professional or researcher, and is taped for broadcast on Canal Savoir and the Web. A boxed set of DVDs is produced at the end of each season and is available to individuals and organizations who wish to use the material for educational purposes.
Specialized Knowledge Transfer Program on Eating Disorder (ED) treatment for 1st and 2nd line
Over the past three years, the EDP has developed a formal KT program that includes dedicated staff whose role is to help stimulate shared care arrangements with community partners. This training program generally involves:
A day-long workshop on eating disorder (ED) management offered to clinicians interested in this topic.
Two or three intensive half-day workshops provided to employees looking to develop their expertise in this area.
The opportunity for selected staff to observe the various components tha make up the EDP program.
Ongoing face-to-face or telephone case supervision and consultation. We have extended an invitation to CSSSs throughout the province who have demonstrated an interest in participating in the program.
Information
Florence Meney
Media Relation
Communications and public affairs
Phone: 514-761-6131, ext. 2769
Cell.: 514-835-3236
florence_dot_meney_At_douglas_dot_mcgill_dot_ca

Download (PDF)