Data Management Unit (DMU)
Your data at your fingertips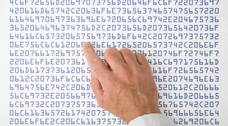 The Data Management Unit (DMU) was established in 2003 to help members of the Douglas Institute's Research Centre conduct and manage surveys and investigations.

The DMU provides researchers, clinicians, practitioners and administrators with a data management tool that is secure, efficient, flexible and fast.
Services
The DMU provides the following services:
Online survey questionnaires and assessment instruments formatting
Paper questionnaires formatting
Data entry
Database exporting in over 30 formats (xls, dat, txt, sav, mdb, etc.)
The DMU may also help with:
Online research participant recruitment
Online course and seminar registrations
Program, training or conference evaluation
How it works
Contact us for an appointment. The first meeting will allow us to:
Analyze your needs
Choose a format for data collection
Following this meeting, the DMU will be able to:
Produce a questionnaire in the required format
Post the questionnaire online (or on paper)
Save the data in the format of your choice
Send you the data file
The DMU ensures that all data collected is kept confidential. The DMU does not offer data processing.
Information
Serge Charlebois
Computer Consultant and DMU Manager
Tel.: 514-761-6131, ext. 3336
serge_dot_charlebois_At_douglas_dot_mcgill_dot_ca
Anne Crocker, PhD
Researcher and Associate Director, Policy and Knowledge Exchange
Douglas Institute Research Centre
Tel.: 514-761-6131, ext. 3361
anne_dot_crocker_At_douglas_dot_mcgill_dot_ca