About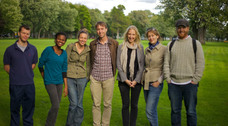 The social environment is without doubt one of the primary factors influencing mental illness onset, course and recovery. Studies of identical twins where one twin has been diagnosed with a severe mental illness have shown that the other twin will have the same illness in around 50% of cases. While this statistic indicates that mental illness is largely inherited, it also suggests that a substantial proportion of variance (up to 50%) can be attributed to individuals' life environments, which include the social, cultural, economic, physical, political, family and (health) service environments.
There is a proud tradition of investigating the role of these environmental factors in mental illness that stretches back to such seminal figures as sociologist Émile Durkheim (b. 1858), psychiatrist Adolph Meyer (b. 1866), sociologist Erving Goffman (b. 1922), and famed 1930's-era sociology researchers Robert Faris and H. Warren Dunham.
Mission
The Mental Health and Society Research Group is part of this tradition and has been created to better document and understand the environmental factors that shape the onset, course and remission of severe mental illness. We are specifically interested in factors that may impede or facilitate recovery from severe mental illness.
To determine these factors, we examine various levels, including the individual, societal, health service and neighbourhood levels. In previous studies, we have found that factors such as neighbourhood crime can have a negative impact on recovery. On the other hand, we have found that safe and secure housing, as well as religious involvement, has a positive impact on recovery. Ongoing studies are examining how the media shapes public perceptions of mental illness and how aspects of culture and gender enhances or impedes recovery.
We are currently funded through grants and salary awards received from the Canadian Institutes of Health Research (CIHR), the Fonds de recherche scientifique du Québec (FRSQ), and the Mental Health Commission of Canada (MHCC). Students in the group are currently (or have been) funded by scholarships from the Social Sciences and Humanities Research Council of Canada (SSHRC) and the CIHR.