Teaching and Training
The Douglas Institute helps advance knowledge and practices in mental health through cutting-edge research and educational programs. As an educational organization, the Douglas shares its knowledge with students, staff members, researchers, mental health professionals and workers as well as with the general public.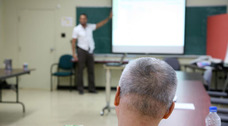 Medical students or residents who would like to deepen their knowledge of psychiatry, may choose from one of the following forms of medical training:
Clerckship
Residency
Fellowship
Continuing medical education
Students interested in an internship may choose among the following disciplines:
Nursing
Psychology
Occupational Therapy / Specialized Education
Nutrition
Social services
Research students in a bachelor's, master's, doctoral or post-doctoral program can expand their expertise by participating in research projects.

Mental health professionals or workers, Douglas Institute staff members, or employees from any other institution may choose among the following continuing education classes:
In the classroom
E-learning
Visiotraining
The Douglas Institute also offers a Public Activities Program with 101 classes on mental health and psychiatry through its Mini-Psych School.