News
Second presence of the Douglas Institute at Festival Eurêka!
2010-06-02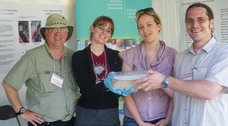 For the second year in a row, Douglas Institute researchers and students will be taking part in the Eureka! Festival, the annual event where science meets fun! This year, the Festival will take place June 11 to 13, 2010 at the Quays of the Old Port of Montreal.

Joseph Rochford, PhD, Director of Academic Affairs, Research Centre, Douglas Institute, and ten of his students will host a booth for the entire festival, titled "Where are my keys? Your brain and your memory." The highlight for visitors will be without doubt the chance to see a real human brain up close.

Here's your chance to meet researchers, professionals and future scientists. All of them are advancing the cause of science right here! You can experiment, create, observe and discuss with them and enjoy almost fifty inspiring hands-on activities - and it's all free!