Neuromodulation Research Clinic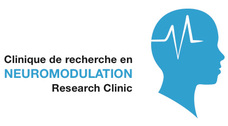 The Neuromodulation Research Clinic is a super-specialized service dedicated to clinical care, translational research and education involving therapeutic neuromodulation in mental health. It focuses on the study and treatment of major psychiatric disorders with the use of state-of-the-art neuromodulation (or brain stimulation) techniques, such as:
repetitive transcranial magnetic stimulation (rTMS) and
transcranial direct current stimulation (tDCS)
The Neuromodulation Research Clinic is a leading center for psychiatric neuromodulation in Canada, with a special focus on state-of-the-art therapeutic interventions and clinical/translational research.
Target population
We offer neuromodulation treatments based on the latest scientific evidence and according to rigorous safety and ethical standards. Consequently, we avoid the indiscriminate use of brain stimulation techniques for clinical conditions where scientific data are lacking. Brain stimulation has been shown to be particularly effective for people suffering from major depression (either bipolar or unipolar).
Patients with the following conditions are not eligible for neuromodulation or brain stimulation treatment because of safety issues:
Current drug or alcohol abuse/dependence (within the past 6 months)
Current unstable medical disease (cardiovascular, renal, pulmonary)
Current pregnancy or lactation
Personal history of epilepsy and/or lifetime primary or secondary convulsion(s)
Presence of any metallic objects in the head (with the exception of the mouth), such as inner ear prosthesis, piercings, aneurism clips, shrapnel, screws, etc.
Presence of implanted pacemaker, hearing aid or medication pump
Clinical services offered
Repetitive Transcranial Magnetic Stimulation (rTMS) for treating major depression
For more information about rTMS, how it works, its main advantages, common side effects, and health risks, and how a typical session looks like, please consult the FAQ.
Access to services
Physicians wanting to refer a patient for neuromodulation treatment should provide us with the following:
Duly completed request form for therapeutic neuromodulation
Medical consultation request
Copy of the most recent psychiatric/medical evaluation (including the list of current medications)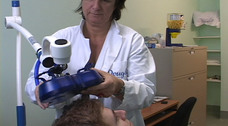 These documents should be sent by regular mail or fax to the Neuromodulation Research Clinic at the address mentioned below. We will not proceed with the assessment of the referral before receiving the requested documents duly completed by a licensed medical doctor.

Physicians who need more information about neuromodulation treatment may contact the Neuromodulation Research Clinic directly by phone.
All eligible patients will meet with a psychiatrist at the Neuromodulation Research Clinic for a pre-neuromodulation assessment, which includes:
Medical/psychiatric evaluation
Review/signing of the information and consent form
Following the initial medical assessment, eligible patients will be then scheduled to start their neuromodulation treatment on the first available spot. As spots are limited, patients will be automatically included in a waiting list.

In the case where a patient is accepted for treatment, the Neuromodulation Research Clinic will be only responsible for neuromodulation-related issues (e.g., side effects); thus, the referring physician will remain responsible for all other aspects of treatment care. If a patient is not eligible for neuromodulation treatment, he/she will be immediately referred back to his/her treating physician.

Presently, rTMS and tDCS are being offered free of charge to residents of the province of Quebec, but patients are fully responsible for their transportation and/or accommodation arrangements.

An attestation regarding the neuromodulation treatment planned or received could be provided for employment and/or insurance reasons.
Interdisciplinary team
Coordination

Marcelo T. Berlim, MD, MSc
Director, Neuromodulation Research Clinic, Douglas Institute

Frederique Van den Eynde, MD, PhD
Co-Director, Neuromodulation Research Clinic, Douglas Institute
Clinical Staff

Andréanne Gauthier, technician
Shéna Bélanger, B.Sc., R.N., clinical coordinator
Contact information
Neuromodulation Research Clinic
Douglas Institute
Newman Pavilion
6875 LaSalle Blvd.
Montreal, Quebec H4H 1R3