Bipolar Disorders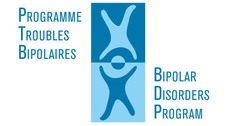 The Bipolar Disorders Program is a superspecialized consultation and treatment service for adults aged 18 to 65 who suffer from refractory bipolar disorders.
Target population
The program accepts people suffering from refractory bipolar disorders, or those who exhibit one or more of the following characteristics:
Rapid cycles (i.e., four major depressive or hypomanic/manic episodes over a one-year period)
No satisfactory response to two trials with mood stabilizers alone
Depressive symptoms that do not respond to antidepressants
Psychotic or hypomanic/manic symptoms that do not respond to a trial with antipsychotics
Cases of a comorbid (additional) substance abuse disorder
Bipolar disorder associated with a personality disorder (Axis II), if the emphasis is on treating the bipolar disorder
These services are also available to people with a bipolar disorder who agree to take part in one of the program's research projects (if they meet the eligibility criteria for at least one project).
Services provided
Treatment and follow-up

Pharmacological treatment.
Psychoeducation group. Average of 3 to 4 times per year (in French and English). 10 meetings of 1.5 hours. At the end of the sessions, any patients referred to the program by external services return to their original treatment team.
Various forms of individual psychotherapy adapted to specific patient and/or group needs: support therapy, cognitive behavioural therapy (CBT), interpersonal and social rhythm therapy (developed by Ellen Frank), Young's schema therapy, motivational therapy, mindfulness-based cognitive therapy (MBCT), psychodynamic psychotherapy.

Neuropsychological assessment
Assessment and management of psychosocial issues
Diagnostic assessment or clarification by an expert psychiatrist of a concomitant personality disorder in patients with bipolar disorder
Relapse prevention and work on treatment compliance
Possibility of family meetings through the psychoeducation group or in person with a psychiatrist or staff member as needed
Consultations to clarify a diagnosis and/or give an opinion on medication
Support for and liaison with general practitioners, health professionals and community partners
Access to services
To be admitted to the program, patients must be referred by a doctor and have a diagnosis of bipolar disorder. The referral must be sent to the program liaison agent and/or the Evaluation Liaison Module (MEL) at the Douglas Institute. Once patients are admitted to the program, their needs are assessed by the team and a therapist is assigned to their case. Together with the psychiatrist, the team creates an individual intervention plan (IIP). This plan is reviewed every six months and may be changed or adjusted as needed.
Research on bipolar disorders
The program research team is interested in the biological and environmental factors of bipolar disorders.
Several research projects are ongoing and aim at identifying these factors as well as improving and developing better treatments for bipolar disorders.
An interdisciplinary team
Team specialists offer a wealth of expertise in the treatment of bipolar disorders.
Medical Chief
Serge Beaulieu, MD, PhD, FRCPC

Program Chief
Carlos Dias, PhD, Adm. A.

Psychiatrists
Serge Beaulieu, MD, PhD, FRCPC
Eduardo Chachamovich, MD, PhD
Andrée Daigneault, MD, FRCPC
Suzane Renaud, MD, FRCPC

Other staff
Kong Chhin, clinician nurse and Liaison Agent
Johanne Girouard, Human Relations Agent
Flavie Major, Social Worker
Annie Malenfant, Psychologist
Ellen Paquet, Graduate Nurse
Nancy Poirier, Psychologist
Rébecca Sablé, Neuropsychologist
Jacques Tremblay, MD, Dual Disorder Consultant
Documentation
Program brochure (PDF)
Guide for family and friends (PDF)
Mood journal (PDF)
Contact us
Douglas Institute
Bipolar Disorders Program
Newman Pavilion, 1st floor
6875 LaSalle Boulevard
Montreal, Quebec H4H 1R3