Child Psychiatry Outpatient Clinic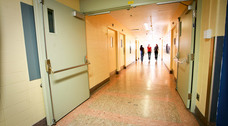 The Child Psychiatry Outpatient clinic offer general services to children and adolescents below the age of 18.
Services provided at the Child Psychiatry Outpatient Clinic
Psychiatric assessment
Brief intervention, referral to a specialized service or a community resource
Brief individual psychotherapy and family therapy
Consultation-liaison with community services (CLSCs, clinics, youth and family centres, early childhood centres, schools, etc.)
Pharmacotherapy (if required)
How to access the Child Psychiatry Outpatient Clinic
All requests to evaluate or treat a child under the age of 18 must first go to the Youth Mental Health Team of your CSSS. The professional team at the CSSS will evaluate the level of services required for the child and recommend the most appropriate resources to respond to his needs.

After evaluating the situation, the team at the CSSS offers various services such as a psychosocial follow up, nursing care, a psychological treatment and case management. A psychiatrist is available to support the CSSS team as needed, but they do not follow up or treat children. If needed, the CSSS will refer the child to the Douglas Child Psychiatry Outpatient Clinic, with the medical reference and the pertinent evaluations. A child psychiatrist from the Douglas will evaluate the child and decide if he/she should be treated at the Douglas or not.
Contact
Douglas Institute
Child Psychiatry Outpatient Clinic
Bond Pavilion
6875 LaSalle boulevard
Montreal (Quebec) H4H 1R3

Tel.: 514-761-6131, ext. 2067
Opening hours: from Monday to Friday, 8:30 am to 4:30 pm