Severe Behaviour Disorders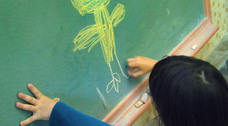 The Severe Disruptive Disorders Program offers a range of superspecialized services for children aged 6 to 12 years with behaviour problems with or without an attention deficit disorder / hyperactivity disorder (ADHD).
Day Hospital
The Day Hospital receives 24 children with severe behaviour problems with or without attention deficit disorder / hyperactivity disorder (ADHD). An initial assessment is made to determine the child's eligibility.

Services provided:
Half-day school activities: two staff members for 6 students per class
Interdisciplinary therapy
Individual and milieu therapy and social skills training to improve functioning at school, at home and in the community
Family therapy and home visits to evaluate and improve the child's functioning and quality of life
Support and liaison services when children return to school
Outpatient Clinic
The Outpatient Clinic receives children who have been treated at the Day Hospital in order to continue follow-up, maintain progress, and reinforce skills.

Services provided:
Psychotherapy based on several approaches
Psychoeducation provided by staff from various disciplines
Family support to help the child adapt when back at school
Liaison and collaboration with partners such as schools, school boards and youth centres
Attention Deficit, with or without Hyperactivity, Disorder (ADHD) Outpatient Clinic
The ADHD Outpatient Clinic helps to clearly establish whether a child has attention deficit, with or without hyperactivity, disorder (ADHD) whether the child is responding adequately to medication. The ADHD clinic assesses comorbidities and learning disabilities.
The clinic also attempts to clearly define medication needs by determining the most effective medication and dosage.
It also helps children improve their self-esteem and their ability to function in society. Parents can also take a parenting skills program.

Services provided:
Introduction or optimization of pharmacological treatment
Psychological assessment
Assessment of intellectual and academic aptitude
Orthopedagogical assessments to diagnose learning disabilities; individual academic training; and sleep assessments, if necessary
Assessment of comorbid psychopathology
Psychoeducation on ADHD and cognitive behavioral therapy approaches for parents
Social skills training and day camp
Individual, family and group therapy sessions (cognitive behavioural therapy) Pharmacotherapy, music therapy, pet therapy and art therapy may be used in certain cases
Liaison with the school in the community.
Access to services
Access to the different services requires a doctor's referral, which must be sent to the entry point of the Child Psychiatry Program by fax: 514-762-3041. For information: 514-761-6131, ext. 2067.
Research to better understand risk factors
Children can participate in research activities, such as pharmacogenetic studies, which aim to better understand the risk factors of attention deficit, with or without hyperactivity, disorder (ADHD) along with its etiology, treatment and pharmacogenetic components.