Mood Disorders Program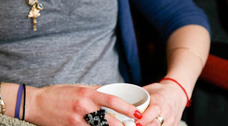 The Mood, Anxiety and Impulsivity Disorders Program at the Douglas Institute provides care to people aged 18 to 65 years with a mood disorder such as:
Bipolar disorders
Depressive and suicide disorders
General anxiety disorders
Panic disorders with or without agoraphobia
Phobia problems
Obsessive-compulsive disorder
Post-traumatic stress disorder
Borderline personality disorders
This program also targets children and adolescents aged 6 to 18 years who suffer from a depressive or suicide disorder.
Services provided
The Mood, Anxiety and Impulsivity Disorders Program is divided in the following services:
Bipolar Disorders Program for people suffering from refractory bipolar disorder.

Depressive and Suicide Disorders Program for people suffering from refractory and/or recurrent major depressive disorder.

Anxiety Disorders Clinic for people who have been diagnosed with one or multiple anxiety disorders.

Out-patient Clinic: Short- or medium-length second-line services of variable intensity to stabilize patients and improve their quality of life while encouraging their independence.

Day Hospital: Assistance for people suffering from a mental health disorder to develop their own functioning strategies, improve their social skills, and learn anger management techniques, ideally without hospitalization.
An individual psychiatric assessment is performed to establish a diagnosis and provide appropriate treatment. Intensive treatment is also available and is made up of group therapy activities that last three hours a day, five days a week, for a duration of four weeks. Then, progressive treatment is available three hours a day, three days a week for four weeks. The Day Hospital is open from Monday to Friday from 8:30 a.m. to 4:30 p.m.
The Short-Term Care Unit: Helps people in the acute phase of a severe mental disorder. The goal is to stabilize patients so that they can return as soon as possible to the community. This is done through:


A psychiatric assessment to establish a clear diagnosis and create an effective treatment plan.
A complete checkup and laboratory tests.
Psychological tests or special exams (if necessary).
An assessment of the social and family situation.
Other services
Access to services
A doctor's referral is required to access the different services of the program. The referral must be sent to the Evaluation Liaison Module (MEL) or the program liaison agent. You must consult the specific information for each program to find out how to access the service.