News
A new home page to enhance your experience
2012-10-18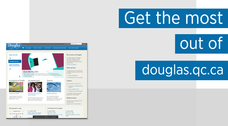 The Douglas Institute has unveiled a new home page for its douglas.qc.ca website. The page was designed to better guide visitors and more effectively meet their expectations. Whether you want to apply for a job, make a donation, follow news about the Douglas or get information about mental health topics, you can easily access the content you want as soon as you enter the site.
User-friendly and streamlined, the home page emphasizes the site's rich trove of information and highlights the Institute's mission. It features the latest news with an emphasis on visuals. It also provides better integration with Douglas 2.0 initiatives, meaning that the latest blog and social media posts have a strong presence on this page.
The menu was revamped and tested among a sample of users to validate its clarity and accessibility.
Finally, the site has a new option to enhance your browsing experience. Every time you visit the Douglas Institute website, a browsing profile is created, and target content based on your interests is suggested under the "Other articles that may interest you" tab.
Happy browsing!