News
A French delegation visits the Douglas
2012-10-30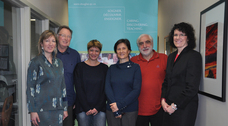 Director general Lynne McVey and the French delegation A delegation of mental health stakeholders from France came to the Douglas to meet some of our teams and discover the Institute's public initiatives in the field of recovery and education in mental health.
Sophie Arfeuillère, Psycom75 project manager; Marie Joigneaux, social worker at the Centre Hospitalier Sainte-Anne; Félix Soussan, volunteer and peer helper at the Maison des usagers (a reference centre at the Centre hospitalier Sainte-Anne); and Christian Merle, pharmacist, met with members of the Communications and Public Affairs Directorate along with researcher Michel Perreault, PhD, and his colleagues.
The goal of the visit was to talk about mental health education initiatives by the Douglas Institute in Quebec and Psycom 75 in France. A partnership agreement was signed between them. It was also an occasion to discuss ways to better serve users of mental health services and provide them with information.
Executive Director Lynne McVey took the opportunity to greet the delegation and thank them for visiting the Institute.
The delegation members are now on their way to Québec City for the conference of the Association québécoise pour la réadaptation psychosociale (AQRP), whose theme this year is recovery and citizenship.