Outpatient Services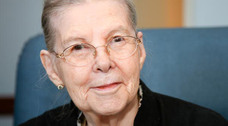 There are three outpatient service points in the geriatric psychiatry program: the Evaluation-liaison team, the outpatient clinic and the transitional centre.
Evaluation-liaison team
The evaluation-liaison team is the entry point for the Geriatric Psychiatry Program. It provides a personalized phone contact and preliminary professional assessment to determine the kind of care required by the person's state of health. It provides professional coaching to health network staff who want to refer patients to the right services at the Douglas Institute.

The team also provides consultation-liaison services to provide more accurate diagnoses or propose leading-edge pharmacological treatments, the goal being to support the clinical practice of physicians working at hospital centres (CH), local community service centres (CLSC), medical clinics and long-term care centres (CHSLD). Expertise is transferred and adapted to network professionals and staff as required. This knowledge transfer may come in the form of coaching, case discussions, workshops, lunch meetings and lectures.
Outpatient Clinic
The Outpatient Clinic offers assessment and specialized treatment services in nursing, neuropsychology, psychology, occupational therapy, and social intervention as well as pharmacological and therapeutic follow-up for people 65 years and older or adults younger than 65 with a geriatric profile, with the goal being to provide in-home support. This approach aims at helping patients and their families maintain independence and an optimum level of functioning for as long as possible.

The Outpatient Clinic also includes an interdisciplinary residential team that follows 45 patients living in family-type resources (FTR) or intermediate resources (IR). The team supports the proprietors with the goal of maintaining quality care.
Contact
L'Étape Pavilion
Douglas Institute
7105, LaSalle Boulevard
Montreal, (Quebec) H4H 1R2
Transitional Centre
The Transition Centre offers a program of therapeutic and psychoeducation activities tailored to the needs of people whose conditions are becoming stabilized and who require support to facilitate their transition to the community.

The goal is to help people develop and maintain skills so that they can reintegrate into community life. The centre has a capacity of 50 clients, who can attend 1 to 2 days a week. Transportation as well as hot meals are offered at affordable prices.

Patients are referred by the Admitting Unit and the Outpatient Clinic.

Program hours: Monday to Friday, 9:30 a.m. to 2:30 p.m.
Staff hours: Monday to Friday, 8:00 a.m. to 4:00 p.m.
Contact
Porteous Pavilion
Douglas Institute
6875, LaSalle Boulevard
Montreal, Quebec H4H 1R3