Child and Adolescent Psychiatry Program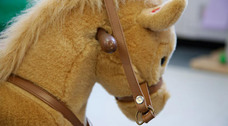 The Child Psychiatry Program at the Douglas Institute offers a range of bilingual services to youth aged 0 to 17 years and their families.

The different services provided are in line with the Douglas Institute's areas of expertise in mental health, such as:
Anxiety
Psychosis
Eating disorders
Attention deficit, with or without hyperactivity, disorders (ADHD)
Depressive disorders
Pervasive developmental disorders (PDD)
Severe behaviour disorders
Services provided at the Child Psychiatry Program
Services may include therapeutic activities such as music therapy, art therapy, speech therapy, pet therapy, greenhouse workshops (horticultural therapy), sports activities and other recreational activities.
Access to services
All requests to evaluate or treat a child under the age of 18 must first go to the Youth Mental Health Team of your CSSS. The professional team at the CSSS will evaluate the level of services required for the child and recommend the most appropriate resources to respond to his needs.

After evaluating the situation, the team at the CSSS offers various services such as a psychosocial follow up, nursing care, a psychological treatment and case management. A psychiatrist collaborate with the CSSS team, but they do not follow up or treat children. If needed, the CSSS will refer the child to the Douglas Child Psychiatry Outpatient Clinic, with the medical reference and the pertinent evaluations. A child psychiatrist will evaluate the child and decide if he/she should be treated at the Douglas or not.
In case of an emergency
Go to the nearest Emergency room that offers services to children (0-17 year olds). The Douglas Institute doesn't have a children's emergency room. In Montreal, you have to go to Ste-Justine Hospital or Montreal Children's Hospital.
Other community organizations can help you manage emergency situations:
Other community organizations can be helpful if your teenager refuses to cooperate.
Contact
Child Psychiatry Program
Bond Pavilion
Douglas Institute
7070, Champlain boulevard
Montreal (Quebec) H4H 1R3